CK Studio Designs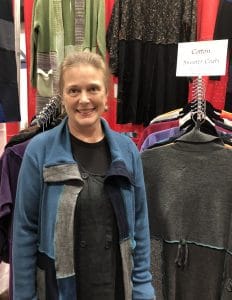 I come from a long line of sewists and I have been sewing for almost my entire life. I recall stories of my great grandmother remaking a shirt or pair of trousers that had belonged to her husband, into clothing for one of her young children. Her "don't waste" and "make it last" attitude has stuck with me all these years.
A few winters past, I looked at four old wool sweaters and thought 'what can I do with these'? It was then that I came up with the idea to combine them into a sweater coat. That first sweater coat started my creative juices flowing and before long, I was re-purposing other sweaters into coats and then I started to use sweatshirts and cotton sweaters and T shirts as well.
No products were found matching your selection.